My Grown-Ups & Me
Welcome to "My Grown-Ups & Me," a six-week outdoor small playgroup that provides grownups and their infant toddlers (six weeks – 18 months), a safe and fun place to develop social and motor skills. Sundays, 10:00 a.m. to 11:45 a.m., infants and grownups giggle and experience a much needed sense of connection.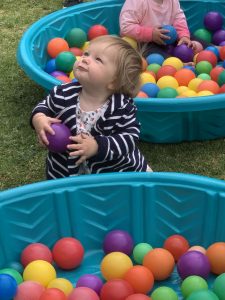 Our playgroup is led by a qualified fully vaccinated preschool teacher. We incorporate stretching and standing exercises, singing, playing musical instruments, sandbox and ball pit activities, and much more. We also have special guests that will drop in through the sessions. Last session we had live music and some adorable therapy dogs!
All grownups wear a mask, their temperature is taken upon arrival, and they decide where to sit. All toys are cleaned before and after play by fully vaccinated staff.