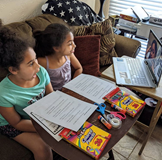 At Beth David, we believe community is important; maybe more important now than ever before. While we stay at home in this time, we must lean on our loved ones, community, and faith to stay safe and healthy. As our Rabbi, Nancy Myers, recently reminded us, Judaism's three main pillars are Torah, Avodah (worship), and Gemilut Chasadim (acts of lovingkindness). While we stay at home, Beth David is still creating a warm, loving, and learned hybrid community based on these principals – and we hope you join us!
Please bring us into your home and join our community with our weekly Friday Night Shabbat Services via Live Stream with our Rabbi, Nancy Myers, and Cantorial Soloist, Nancy Linder. You can learn and discuss Torah with Rabbi Nancy Myers in one of our Zoom Torah Studies or Lunch and Learns. We'd love to have you at our virtual 2nd Night Seder lead, again, by our clergy. And we can teach your children to lean on their faith in times of need while learning Hebrew and Judaic studies through our virtual Jewish School for students in Kindergarten through 10th grade.
We are here as one community, even when we cannot gather together in person, we are here together in song, prayer, learning, and growth.