Saturday, June 22 – 9:00am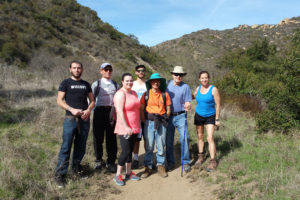 Breakfast $6 at Temple (20's – 30's Breakfast is free if you RSVP) includes:
Bagels, lox, cream cheese, hard boiled eggs, veggies, fruit & Coffee
Choose Between
Walk in Huntington Central Park with Keri Gee & Elliot Semmelman — NEW LOCATION!
Child & Adult friendly walk.

HUNTINGTON BEACH CENTRAL PARK
(NOTE: Go to the side off of Edwards)
Once on Edwards
Turn LEFT on Central Park Drive (in between Slater and Ellis)
Go straight and pull in to the parking lot.
Meet in front of Kathy May's Lake View Cafe at 6622 Lake View Drive, HB
We'll walk around the lake and enjoy other parts of the park as well.


Hike in Whiting Ranch with Rabbi Myers. Meet at the parking lot of Wahoo's, 27412 Portola pkwy A, Lake Forest by 10:30 a.m.
RSVP by June 21 to the office 714.892.6623 / email [email protected] or RSVP below.