Hanukkah Party & Dinner
December 20, 2019, 5:00 pm - 9:00 pm
Beth David Social Hall
6100 Hefley Street
Westminster, CA 92845
Add to iCal | Add to Google Calendar
Friday, December 20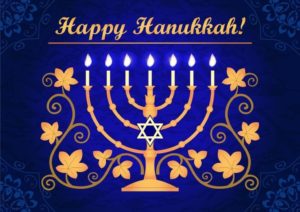 5:00pm – Wine & appetizers
6:00pm – Dinner
Delicious Brisket
Roasted Chicken
Vegetables
Scrumptious Latkes
Cost:
Family Package: (2 kids & 2 adults): *$50
Adults: $20 Non-member adults: $22
Children (13-18): $5 12 & under: FREE
After December 13th, price will go up by $5 per person
Please RSVP for the dinner by December 13th to tbdavid@templebethdavid.org or the Office – 714 – 892 -6623 or register below.
*Portion of contributions will be donated to Mazon
Please bring an unwrapped toy for kids in need!
7:30pm – Festive Shabbat service with Adult & Jr Choir
RSVP for This Event
Bookings are closed for this event.